---

1. Photos from Fiorano, Maranello, and Modena

All photographs taken by Dominique J. F. Lahuec
---

2. This unique, limited (1,000 copies) and numbered

Ferrari MODEL CLUB

large-size
photo calendar
45 x 34 cm (17.7'' x 13.4'')

of '98 is a must for your

Ferrari items' collection!!.



It is a souvenir on

"Ferrari's 50th 1947-1997
at Modena and Maranello"

You may use this calendar

every day, every month, and for many years

with these unique photographs.

--------------------------------------------------------------

My visit of this particular event
was the inspiration for this Calendar:

--------------------------------------------------------------


Calendario - Ferrari MODEL CLUB -
"Ferrari 50 anni ...Grazie!"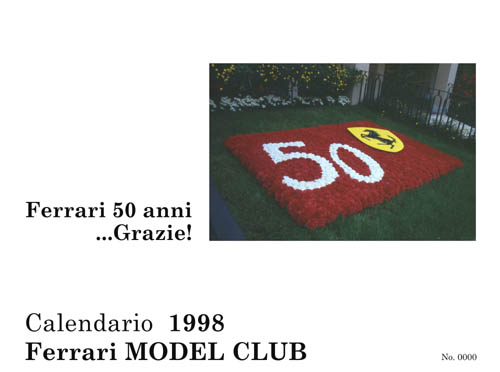 photographs (images) copyright Dominique J. F. Lahuec
all rights registered - Ferrari MODEL CLUB Verlag

My idea was to make a choice of very rare photographs which
only can be re-made if one is going to travel around the world.
The owners of these unique Ferraris have flown in their most
valuable collector's items from New Zealand or the United States.
The photographic locations have been chosen to only be either at
the city of Modena or the Ferrari test track Fiorano, near Maranello.

Dominique J. F. Lahuec
----------------------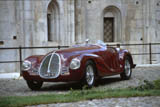 January February March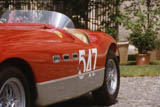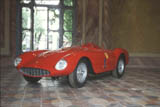 April May June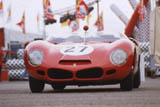 July August September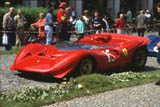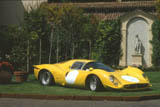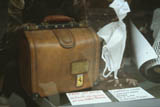 October November December

---


" Letters - Stimmen - Lettres - Ringraziamenti :"

- Cuoio Schedoni Modena s.n.c , S. Schedoni (I-Modena): "... This is
a wonderful Calendar and we appreciate it very much."

- Comune di Modena , il sindaco - Bürgermeister Dottor Barbolini
(I-Modena): "... Mi complimento per l'ottima riuscita del
calendario e per la qualità delle Sue fotografie e
Le auguro che l'iniziativa riscuota un meritato successo."

- Firma MEB Frau A. Müller (D-Memmingen): "... Kalender erhalten
... er ist einfach super ...ich glaube, ich habe damit ein tolles Geschenk
erstanden. Mein Kompliment für die wirklich wunderschönen Aufnahmen!"

- Comune di Maranello , il sindaco - Bürgermeister G. Bertacchini
(I-Maranello): "... le persone riceveranno il calendario ricevano
con esso una buona impressione del nostro Paese. Questo grazie anche
alla eccellente qualità delle foto da Lei scattate e per le
quali Le faccio i miei complimenti."

- Ferrari Club Japan President J. Hiramatsu : "... As you know, I was
in Italy at that time and I like your calendar very much."

- Ferrari Club France Mitglied (F-Lyon): "... Ihren Kalender
habe ich durch den FC France Präsidenten kennengelernt. Ich hatte
die Ehre einen Ferrari von Rom nach Maranello pilotieren zu dürfen
und der ist in Ihrem Kalender abgebildet. Bitte senden Sie mir
vier Exemplare Ihres Calendario!"

- Ferrari Club France Mitglied (Eigentümer der weltberühmtesten
Ferrari-Sammlung - F-Paris):
"... Der Kalender gefällt uns sehr gut!!!"

- Ferrari MODEL CLUB -Gründer und früherer Präsident
R. Heiderstädt (D-Lage): "... Der Kalender
ist ja wie von einem Profi gemacht!
HERZLICHEN GLÜCKWUNSCH!"

- Ferrari S.p.A. Presidente Luca Cordero di Montezemolo
(I-Maranello): "... Congratulations for the enthusiasm
for Ferrari you put in this 'Calendario 1998'.
I really appreciate it."

- Ferrari Club of America , Publisher of
"Prancing Horse Magazine" Mrs. C. Clavin (USA-Atlanta):
"... Your calendar is beautiful. I can see that you put
great effort into it - and I know that it was a big project."

- Ferrari Club France President D. Moreau :
"... Je vous souhaite tout succés le vendre."

- Ferrari Owners' Club UK , Club Secretary
P. Everingham : "... Very good it is
and I hope it will be a great success."

- Ferrari Owners' Club Suisse Präsident K. Schär :
"... Der Kalender ist sehr attraktiv und in einem idealen
Format. Herzlichen Glückwunsch für dieses geglückte
Erstlingswerk."

---

"Ferrari 50 anni ...Grazie!"
Calendario 1998
Ferrari MODEL CLUB
ISBN 3-00-002038-1
This limited-edition calendar with 1,000 numbered copies shows
13 colour photographs on paper 45 x 34 cm. This "Calendario 1998"
is an expression of gratitude to Ferrari S.p.A. for the 50th anniversary
celebrations held in June 1997. These matchless photographs show 11
extremely valuable and partly unique Ferrari cars built in 1940,
and between 1948 and 1967 displayed in the attractive surroundings of
the cities of Modena and Maranello.
They will appeal to any Ferrari enthusiast who already knows
this kind of cars.
.................

Is it for you or as a present for your Friends ???

Price € 29,50 + postage € 8,60 in Europe
Price US$ 75.-- (postage included in Overseas)

Pls. send your postal address by this e-mail (click here)
for receiving the order sheet.
......................

Published by Ferrari MODEL CLUB Verlag
D-80639 München - Germany
Fax:++49-(0)89-40 06 48
photographs copyright 1997
Dominique J. F. Lahuec . president of Ferrari MODEL CLUB

---
unauthorized use of images from this Homepage prohibited - copyright !

---