---
Ferrari Challenge
---

Season 2002:


---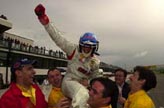 The winner from Misano - Moccia (I)

Third Meeting of the Ferrari Challenge Trofeo Pirelli 2002 in Misano (I)
Maranello, Mai 16
The third meeting will take place at Misano-Adriatico (near Rimini).
On the track Santa Monica, where last year for the first time night
races were made, the qualification races will take place on Saturday
afternoon. On Sunday there will be four races, two in the morning as
sprint races (17 laps) and the others in the afternoon as Endurance
races (25 laps). Among the drivers will also be Andrea Belluzzi
and Nicola Gianberti.

---

Spa final result: 28.04.2002

Trofeo Pirelli Race 1:
1. John Bosch (Kroymans)
2. Javier Diaz (Ferrari España)
3. Ange Barde (Ferrari France)

Trofeo Pirelli Race 2:
1. Ange Barde (Ferrari France)
2. Javier Diaz (Ferrari España)
3. John Bosch (Kroymans)

Coppa Shell Race 1:
1. Jan Storm (Kroymans)
2. John Greasley (Ferrari UK)
3. Pit Meris (Garage Francorchamps)

Coppa Shell Race 2:
1. John Seale (Ferrari UK)
2. John Greasley (Ferrari UK)
3. Urs Grutter (Team Symbol)

---